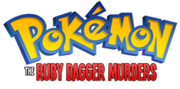 Welcome to the Pokémon: The Ruby Dagger Murders Wiki
Pokémon: The Ruby Dagger Murders is a fanmade Pokémon game started by Luke, a member and Super Moderator of Pokécommunity. The game is currently still in its planning stages. More information can be found here until Luke finally gets around to adding more pages.
Latest activity
Ad blocker interference detected!
Wikia is a free-to-use site that makes money from advertising. We have a modified experience for viewers using ad blockers

Wikia is not accessible if you've made further modifications. Remove the custom ad blocker rule(s) and the page will load as expected.