| | | |
| --- | --- | --- |
| | Tanucoon and the rest of its family are based on the Tanuki which have unusually large testicles. For the sake of good taste and to keep the game as kid-friendly possible, parts of this Pokémon have been censored by a leaf as per Japanese custom. | |
Tanucoon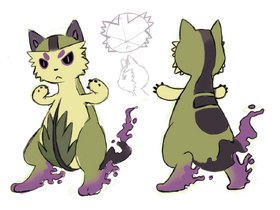 Drawing by Aonik
| | | |
| --- | --- | --- |
| Type | | |
| | |
| --- | --- |
| Experience | 1,059,860 at Lv. 100 |
Botanuki is a dual-type Grass/Ghost Pokémon.
It evolves from Botanuki at Level 18. It evolves into Azebark at Level 30.
Physiology
Edit
Gender Differences
Edit
None.
Special Abilities
Edit
It has now become more in tuned with its spiritual abilities. It can pass through hard surfaces and communicate directly with the spirits of the forest.
Despite calming down after evolution, it still has a knack for playing tricks on others. It has begun to realize its role as a guardian of the forest and takes its duties very seriously.
Though rare in the wild, Botanuki lives the canopies of tall trees.
Game Data
Edit
Pokédex Entry
Edit
It builds massive homes in the canopies of forests. It moves at lightning fast speeds that confound its opponent.
In-Game Sprite
Edit
None.
By Level-Up

Edit

| Level | Move | Type |
| --- | --- | --- |
| -- | Pound | |
| 04 | Leer | |
| 08 | Razor Leaf | |
| 13 | Transform | |
| 20 | Trick | |
| 24 | Shadow Sneak | |
| 28 | Taunt | |
| 32 | Take Down | |
| 37 | Follow Me | |
| 42 | Leaf Blade | |
| 45 | Sucker Punch | |
| 49 | Shadow Ball | |




| TM | Move | Type |
| --- | --- | --- |
| 01 | Focus Punch | |
| 05 | Roar | |
| 06 | Toxic | |
| 09 | Bullet Seed | |
| 10 | Hidden Power | |
| 11 | Sunny Day | |
| 12 | Taunt | |
| 17 | Protect | |
| 19 | Giga Drain | |
| 21 | Frustration | |
| 22 | Solarbeam | |
| 27 | Return | |
| 28 | Dig | |
| 29 | Psychic | |
| 30 | Shadow Ball | |
| 31 | Brick Break | |
| 32 | Double Team | |
| 40 | Aerial Ace | |
| 41 | Torment | |
| 42 | Facade | |
| 43 | Secret Power | |
| 44 | Rest | |
| 45 | Attract | |
| 46 | Thief | |
| 49 | Snatch | |
| 53 | Energy Ball | |
| 56 | Fling | |
| 58 | Endure | |
| 60 | Drain Punch | |
| 63 | Embargo | |
| 65 | Shadow Claw | |
| 70 | Flash | |
| 75 | Swords Dance | |
| 77 | Psych Up | |
| 78 | Captivate | |
| 81 | X-Scissor | |
| 82 | Sleep Talk | |
| 83 | Natural Gift | |
| 86 | Grass Knot | |
| 87 | Swagger | |
| 89 | U-Turn | |
| 90 | Substitute | |




By Move Tutor

Edit

Move
Type
Encore
Switcheroo
Fake Tears
ThunderPunch
Meditate
Seismic Toss
Sucker Punch
Double-Edge
Swift
Weather Ball
Metronome
Signal Beam
Extremespeed
Seed Bomb
Headbutt
Zen Headbutt
Frenzy Plant
Seed Flare
Shadow Force
Consult Move Tutor page for more info.




By Egg Moves

Edit

| Move | Type |
| --- | --- |
| Growth | |
| Baton Pass | |
| Uproar | |
| Sand-Attack | |
| Revenge | |
| Lucky Chant | |
| Belly Drum | |
| Extrasensory | |
| Leaf Storm | |
| Pay Day | |